Control your mouse with the keyboard!

Move, Click, Scroll, Drag and more with a few key strokes.
---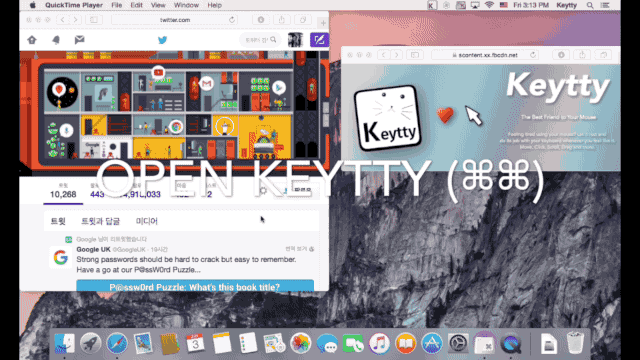 How to use
---
Open Keytty
Press ⌘(Command) twice (quickly) to open the Keytty interface.
You can type the commands listed below after you open the Keytty interface.
---

Move
Simple Move
←(H) - left
↑(K) - up
→(L) - right
↓(J) - down
Section Move
C - center
W - top left
E - top right
S - bottom left
D - bottom right
Manual Move
input number to decide distance
+/- to adjust distance
choose direction with direction commands(H,J,K,L,←,↑,→,↓)
---

Actions
To use action, Type "A"
Then type one of the commands below:
Click
"," - left click
"." - right click
";" - double click
Scroll
O - scroll up
P - scroll down
"[" - scroll left
"]" - scroll right
Drag and drop
N - drag start
M - drop (drag end)
Jump (multiple monitors)
[spacebar] - jump to the next screen
Learn more
---
Screencast

More videos
---
Limitations
Keytty is an app for macOS (OS X) only.
Keytty is not intended to replace a mouse or trackpad.
You can control your mouse cursor actions with Keytty most of the time but you can't override the OS level controls (for example, Mission control, Launch pad, Log in, etc.) since Keytty is only an app running on the OS.
---